The

Impact
Improver

IS Practice That Sticks

If you've been yearning to practice at home or in the office, you finally have exactly the tool you need to get in those reps, plus get immediate feedback on your swing. There's no other product that provides this level of convenience and instruction – and best of all, it takes just seconds to set up before you're swinging.

Connecting with the sweet spot is the key to consistency. With the IMPACT IMPROVER, you'll see your point of contact with every rep, because the ball STICKS to your club face! It's like having a pro's assessment after every single swing.

Shop Now
WORKS FOR ALLLevels OF GOLFERS
Time Saver

Convenient

Practical

Functional

Economical

Intuitive
How to Use the Impact Improver?
Strike & Stick Technology
Striking the sweet spot is the key to great golf. When you use the Impact Improver you get instant feedback on each swing because the balls sticks to the shield telling you if you struck the sweet spot or not. This information allows you to self-learn and sense which movements in your swing help you hit the sweet spot and which don't.

Your ball goes farther and straighter when you hit the SWEETSPOT!

Why? Because when you hit the sweet spot, ball speed is maximized which results in longer shots. And the shots are straighter because the clubface doesn't twist at the moment of contact when you hit the sweet spot.
Ball Speed ÷ Clubhead Speed = Smash Factor
The closer you hit the ball to the sweet spot, the higher your ball speed! And the higher the ball speed, the longer your shots!
Buy Now
Learn More
Here's What You get
STRIKE SHIELD – Fits on your own club. Snaps on, slides off.

IMPACT BALLS – Three balls per unit for thousands of strikes.

FACILITATOR TOOL – Helps get the shield off clubs with a tight fit, most come off easily by hand.

PREMIUM ZIPPER CASE – Great for storing or traveling with your Impact Improver. Or Keep it in your golf bag for valuables. Its is great for all sorts of things and looks great on your desk.
Buy Now
Learn More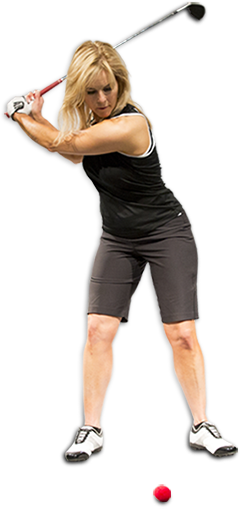 Expert DesignExpert Approved
Tiffany Faucette is a Top 50 LPGA Teacher and inventor of the Impact Improver. Prior to her teaching career she was the #1 Ranked Amateur in the Titleist/Golfweek rankings and played professionally worldwide for eleven years. Due to all her years of playing competitive golf, on the road, she knows the benefits of indoor practice.

After the idea of the Impact Improver came to her while practicing in her own basement, she worked with top experts in the design field. She also called upon other Top 100 Teachers to help her with the Impact Improver. I am thrilled that we have created a product that is so simple to use while delivering tremendous benefit. Practicing indoors with feedback is one of the best way to develop feels and body awareness. We hope you get better with Practice that Sticks!

Buy Now
Learn More
-
Bobby Clampett Testimonial
"I really enjoy using this product, it is a fun way to improve my swing impact. I've had it for about a month and I can already see an increase in my ball striking. It is great, because I can use it in the house and don't have to go to the range and hit balls. Great product overall, very happy."

Robert J Rapport
AMAZINGLY SIMPLE - INCREDIBLY EFFECTIVE

This has made my life simpler. I practice whenever I have some free time at home. I'm starting to figure out my tendencies. And by ball striking is getting better! Great product! Thanks

Jay Herly