MEet The Inventor, Tiffany Faucette...
Tiffany Faucette picked up a club for the first time at the age of 17 and her life has been all golf since. She played college golf and captained the Florida State University Women's Golf Team. In 1997 she was the #1 Ranked Amateur in the Titleist Golfweek Rankings. She played professionally worldwide for eleven years including two majors: The US Women's Open and the The McDonalds's Championship – and all major tours: LPGA, Futures Tour, European Tour, Asian Tour, Canadian Tour and others. Now as a full time teacher, she has won many accolades including: LPGA Top 50 Teacher, GRAA Top 50, US Kids Golf Honorable Mention.
All this means, is that Tiffany knows golf. She understands the desires of golfers, the work habits, and how they need to practice to get better. She has hit too many golf balls to count and knows the benefits of indoor practice to enhance your play outside. She hopes you have fun using the Impact Improver when you can't get to the driving range to keep your swing in shape.
Contact Us!
From the Beginning...
One night when I was swinging my golf club in the basement around 11pm at night, I felt like I was swinging well and really wanted to hit a golf ball.  The problem was I didn't have a hitting net and the only other option was to hit a ball through the wall (which I thought about for a nanosecond).  Then I looked down at the clubface and I said to myself, "The ball should stick to the clubface, and then I would know where I was making contact." And then I said aloud, "THE BALL SHOULD STICK TO THE FACE OF THE CLUB!
Once I got the idea, I was obsessed with it.  It took two and a half years working on prototypes and patents to finally develop a product from this idea and bring the product to market.  Each time I got a prototype back it was like Christmas, I couldn't have been more excited to open the box and start working with it.  It took quite a few design changes to get the shield to fit properly, stay on at high rates of speed, and get the ball to a quality where it would last for close to 1,000 strikes.
Knowing that the product will make it easier for a golfer to swing indoors, I knew I could help with three obstacles people attribute to golf: time, money and embarrassment. Since a person can practice with the Impact Improver indoors, they can practice any time they want. The balls last for approximately 1,000 strikes, so the cost of the product breaks down to pennies a swing, and you most likely aren't going to get embarrassed while practicing in the privacy of your own home.
My true goal with the Impact Improver is to make entry into the game much easier.  For current golfers, I'd like to make it easier for them to practice without a hassle when they can't get to the driving range.
Our Commitment is...
Is to create products that make it easier for a golfer to train while enhancing their range practice. We want to make products that allow you to improve, self-learn and hit shots that Flow with Force and Fly!
Contact Us!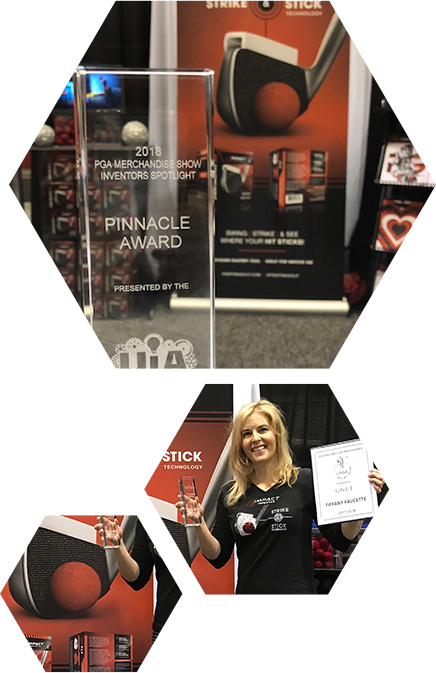 "I have so much fun with the Impact Improver. Each time I swing, I get this powerful feeling of moving on to my front side. And then I get to look at the club and see where my contact was and what my compression looks like."

Mike, tournament golfer
"I have so much fun with the Impact Improver. Each time I swing, I get this powerful feeling of moving on to my front side. And then I get to look at the club and see where my contact was and what my compression looks like."

Mike, tournament golfer